The advantages of a well-designed biomass boiler and combustion system
by Aalborg Energie Technik a/s on Jan 11, 2023 11:30:21 AM
A well-designed boiler and combustion system can significantly improve the efficiency of biomass and residue-fired energy systems. In this article we explore just some of the advantages an advanced and cleverly-designed system biomass boiler and combustion system offers your chemical plant.
The economic benefits of a well-engineered system
A state-of-the-art biomass boiler and combustion system will enable your chemical plant to minimise its environmental footprint through lower carbon emissions, carbon-neutral green energy and low in-house power consumption.
But there are also substantial economic benefits to be gained. A well-engineered system will provide high performance, lower fuel costs, high availability and OPEX savings through reduced O&M costs.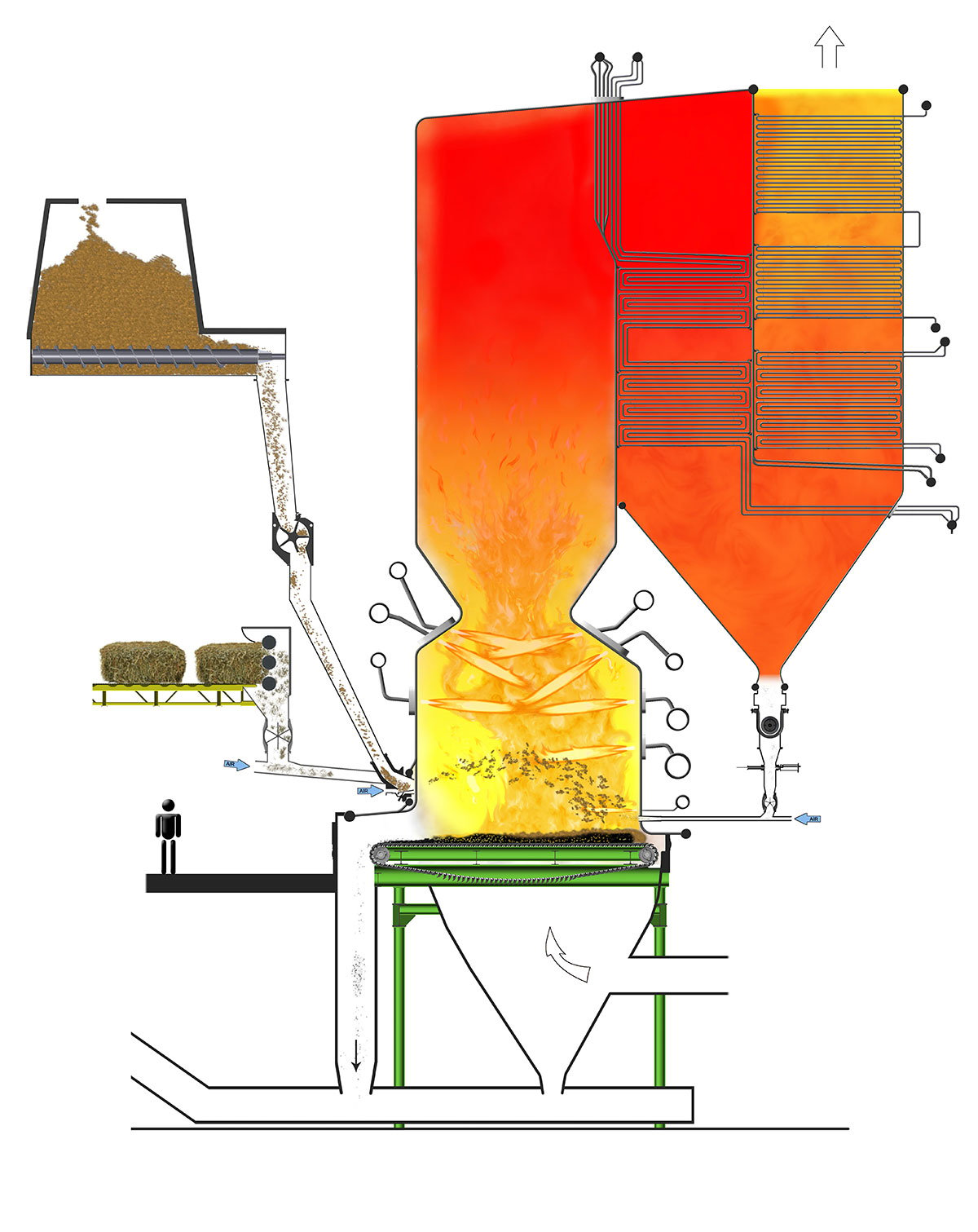 Let us take a closer look at each of these in turn.
Greater boiler efficiency
First of all, clever biomass boiler and combustion system technology will drive greater boiler efficiency. The main influence on boiler efficiency is the loss of flue gas heat. For a given fuel, the heat loss is directly related to flue gas temperature and excess air.
There are several methods for achieving low flue gas temperatures. However, a careful boiler design is able to maintain these temperatures over the full operating period and between maintenance shutdowns when the fuel is prone to cause fouling. This will result in less heat loss and greater efficiency.
The consequences of low oxygen content
Air and flue gas flows (and therefore, excess air ratio) are intrinsically linked to fan power consumption, as well as the pressure drop across the boiler, pre-heaters and air ducting, flue gas ducting and flue gas cleaning system.
The excess air ratio is connected to the combustion technology, but also to the actual design of the combustion system equipment. Operating at 2-2.5% O2, requires both uniform fuel feeding and well-designed combustion air injection into the furnace as well as accurate combustion control.
For example, one of AET's plants within the chemical industry burns waste wood. The boiler is a 90 MWth boiler, and it is able to operate within 2-2,5% O2 at a load range of 75-100 % MCR, see figure below.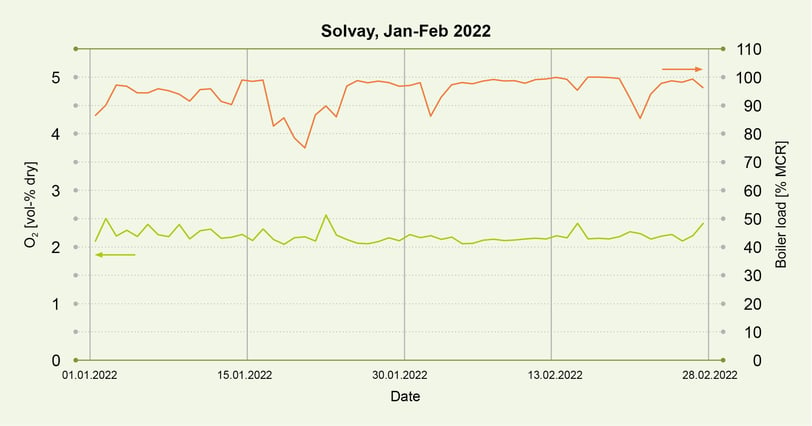 A combustion technology with low excess air ratio and low air and flue gas side pressure drops therefore inherently consumes less in-house power.
Lower in-house power consumption
Another benefit of a low oxygen content is a low in-house consumption. And the less power consumed at your chemical plant, the more power you can sell, making it a better business case.
For most biomass- and residue-fired plants, a major part of the in-house power consumption originates from feed water pumps, combustion air fans and induced draft fans. If the use of fans can be kept to a minimum, your plant will save power.
A well-devised boiler and combustion system will consume up to 10-35% less energy than other systems, which means large amounts of inhouse power are not lost. This is possible because their spreader stokers are able to inject air in stages – 50% at the first level and another 50 percent at the second level – which provides a very low oxygen content.
Limited refractory is used
Another benchmark of a carefully-designed biomass boiler and combustion system is that very little refractory material is employed, with a number of resultant benefits.
An immediate positive side effect of limited refractory is significantly lower maintenance costs. But limited refractory also means the starting up and shutting down (or cooling off) of the boiler is notably faster than other systems – both are achievable in just 4-8 hours, compared to up to 24 hours for other systems, depending on the refractory materials they use.
This fast power-up/close-down facility not only saves your plant money, but it also means you can run longer production times.
Other design features providing benefits to chemical plants
There are a number of other specific design features of an advanced biomass boiler and combustion system that offer benefits to your chemical plant.
It is important to note a well-developed boiler and combustion system will feature the following:
Headers: Designed so that the headers sit outside the flue gas pass, reducing the risk of corrosion.
Grate: Use of hardwearing materials for the grate, due to high temperature. The grate is responsible for distributing air.
Low flue gas velocity: Be made for a lower flue gas velocity at the heating surfaces.
Less carry-over of particles: Ensure there are less carry-over of particles from the first, to the second, to the third pass, resulting in less wear and tear on the heating surfaces.
Less soot blowing: With good combustion and less particles sitting on the heating surfaces, there will be less need for soot blowing to remove the particles, causing less wear and tear on the pipes and enabling production of more power.
All in all, these design features will enhance the performance of your biomass and residue-fired boiler and combustion system, while optimising energy production and reducing O&M costs.
Higher system availability
All chemical plants seek to maximise the time in which their systems are available to run.
A well-engineered boiler and combustion system will lead to higher availability simply because it will experience less machinery disturbances. Of course, availability can be compromised for other reasons, but fewer problems in a carefully designed boiler will always result in greater availability.
To find out more about which biomass and residues should power your chemical plant, download our free e-book.